Have a look around your home or office. Just about everything you see was invented by someone, some­where, some time or other. Everything but the dog and cat and possibly what the cat dragged in. Some notable inventions have creators' names attached, deservedly or otherwise. Like James Watt and the steam engine, even though Watt didn't invent the steam engine, he improved it by inventing the separate condenser.
Other great inventors are lost in antiquity. Nobody knows who came up with the wheel, the cam, pottery, or the horse­shoe. Often inventions are so seemingly simple or taken for granted they are overlooked for what they are; life-changing innovations. Below are but a handful.
Ball Bearings Arguably one of the most important inven­tions of all time, yet it never seems to get its due. In olden times to reduce friction and prevent wear on axles people used only grease, gobs of it. Such measures simply would not suffice for the ever bigger, faster and more powerful machines of the modern age. Ball bearings reduce the coefficient of friction by a factor of a thousand, without them the industrial revolution could hardly have gotten very far, literally in the case of railroads. There wouldn't be high speed electric motors and dynamos, it would be lights out if not for ball bearings.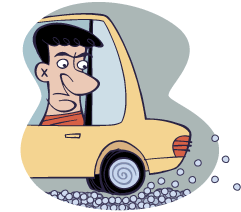 The idea of ball bearings are found in Da Vinci's sketch books. The modern ball bearing was invented in 1794 to reduce friction in carriage wheels by Philip Vaughan, of Carpathian, Wales. With the advent of the bicycle and automobile about a century later, together with machines which could grind the metal balls accurately, ball bearings really got going big time.
This illustrates an important point, it's one thing to think of something, quite another to be able to actually make it. The state of the art of tools and technology make a big difference. The steam engine wasn't possi­ble until they developed means of making pistons and boring cylinders accurately. So sometimes an invention isn't the thing itself, but a way to make it. Which leads us to…
The Machine-Made Nail It seems strange that something as common as the common nail was ever, uh… uncommon. But it was. Nails have been around a long time, but they were hand made by blacksmiths which was both time consuming and expensive. So valuable were nails that at one time decrepit structures were burned to the ground to recover the nails.
The first machine-made nails were squarish cut nails rather than the round, wire nails most often used today. Though records are as scant as hand made nails, it is believed these machines were developed in New England around the turn of the 19th century. The machine-made nail led to…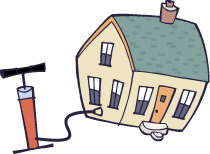 The Balloon Frame House The cheap mass-produced nail revolutionized building methods. It dispensed with the need for highly skilled craftsman to build structures using post and beam framing with mortise and tenon joinery. Instead you needed only a gang of carpenters hammering nails to form bearing sheet walls, which also required smaller timbers making housing cheaper and faster to build.
The balloon frame house was developed gradually over time in various places in the U.S. The modern form used today, where the timbers provide strength and the sheeting gives it rigidity and helps spread the load, was pretty much finalized in the 1880s or thereabouts. Then the balloon mortgage was invented to pay for it all. All this easy to build housing contained another innovative feature…
The Hallway A common corridor leading to separate rooms changed the way families lived, helping usher in the modern idea of privacy. If you tour the old manor houses of England you'll notice rooms open into other rooms, there are no hallways as such. You can't have much privacy if your bedroom is on the way to the loo. A hall then was more in the way of a gallery, a large room, in the modern vernacular a great room. Separate rooms for privacy came about because of…
The Fireplace and Chimney Before that fires burned in the center of large common rooms which had a hole in the roof to let the fumes escape. The fireplace could be built because of the invention of… Masonry. Ok, I think you get the idea, one thing leads to another. While they do, sometimes it takes a little longer for people to connect the dots than you might suppose. Take for instance…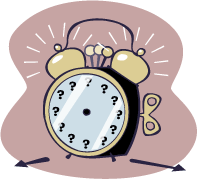 Clock Hands One might wonder what good a clock is without hands indicating the hours and minutes. Originally mech­anical clocks were a method of calling monks to prayer by automatically ringing bells at the prescribed hour. These were an improve­ment over sun dials which weren't very helpful on cloudy days or at night. Or if the monk assigned to watch it was absent minded or fell asleep. They also replaced the water clock, or clepsydra, which didn't work in northern climes when it got below freezing.
It was during the Renaissance, when clock towers were built by civic organ­izations rather than the church, that they acquired hands. We now say time is money, but time was salvation for those old-time monks. They also say a stitch in time saves nine, which is the best I can do to segway to…
The Buttonhole Buttons and buttonholes go together like mom and apple pie, but this was not always the case. Buttons have been around a lot longer than buttonholes. The oversight was likely because you can't make money selling holes like you can selling buttons.
Clothes were originally held together by wrapping, belt­ing, tying, tucking and straight pins. Buttons were decorative or used for tying or with a loop until someone had the bright idea to make a simpler buttonhole. When and where exactly is a mystery to me. It certainly made dressing faster and easier and was a great relief to everyone using pins as fasteners. And a great boon to button makers I'm sure. Speaking of clothing the masses, here's another innovation you may not have considered…
Standard Clothing Sizes Before the age of Napoleon, nobody was a 38 medium. Perhaps they were that size, but the term didn't exist. Prior to that, all clothing was custom made for the individual, either by tailors or at home. But if you want to outfit 100,000 soldiers to invade Russia that's not a very efficient method. Besides, there probably weren't enough tailors to do it. Instead they mass produced the uniforms to common sizes for the common soldier. It's one thing to clothe a huge army on the march, but quite another to feed it. This brings us to…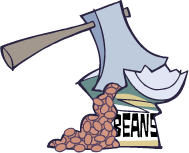 Can and Can Opener Like buttons and buttonholes, the can and can opener made separate appearances. The can obviously came first, you don't need an opener for something which doesn't exist. Canning was invented in Napoleonic France to supply the ever growing Imperial army in the field, first being done in champaign bottles and later in metal cans. These cans were opened with whatever tool was handy. An ax, knife, bayonette or a hammer and chisel were commonly used.
Decades later the levered knife-like can opener designed for the task came about. The cranking, wheeled type now so popular is a Johnny come lately. Yet shade tree mechanics still sometimes open oil cans with screw drivers. While a can will keep your food from spoiling and is easier and less messy to store and stack than great heaps of loose food, it won't keep it at a yummy eating temperature. For that we have…
Vacuum Bottle, or Thermos Physicist and chemist James Dewar invented the vacuum flask in 1892. It kept hot things hot, and cold things cold. How did it know?
OK, that last one is an old joke. Other inventions were more important, the wheel or maybe the moldboard plow for instance. Possibly shoes or shoe laces, or those little plastic dohickies on the end of shoe laces that keep them from unravelling, aglets they're called. I just wanted to give credit where it's due for the often overlooked. Everyone loves an underdog, and every dog should have its day.