If you're like me you like observing and identifying the fauna and flora where you live. Mostly what's outside. Other than pets, fauna inside the house is not that popular. You know, cockroaches, spiders, mice, and so on. Let's just deal with outdoor fauna, specifically birds. More specifically, birds I've seen from my little homestead here in the burbs. Rather than simply list them (boring) I made a game of it, a series of rebus puzzles. How many of these Midwestern birds can you identify?
Here's how it works
Each single row of pics is one bird
Pics can be words, syllables or letters
If the pic is animated think of the action, a verb
Mouseover each rebus for answer
BONUS: Click on the bird name for a link to photos and information at Audubon dot Org
Rebus Birding 101
Let's begin with five very common birds pretty much everyone around these parts has seen and will know it when they see it, as they say. I admit the fourth rebus has an obscure clue, but it's such a common bird it should be easy to get from just the first part alone.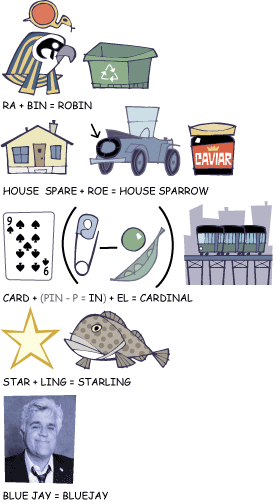 More Common Bird Rebuses
These five common birds are not as plentiful in my neck of the woods as the previous five, but are really easy to spot and identify. Cause they be big. You can't miss them. Can you figure out from the rebuses which largish birds I'm talking about?




Bird Rebuses 11-15
Five more fairly common birds in my neck of the woods. Or suburbs, actually. Can you figure out from the rebuses which birds they are?
Bird Rebuses 16-20
Five more. Maybe you've seen 'em, maybe you recognized 'em, maybe you can decipher the rebuses regardless. That's the game, at any rate.
Bird Rebuses 21-25
Five more. Small, little, tiny, wee birds this time.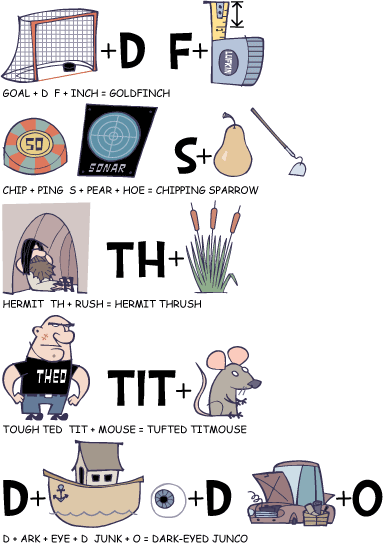 Bird Rebuses 26-30
These five bird specimens on my I-seen-it list I did not see around the old homestead here in the burbs. Or even in the local vicinity. In some cases I spotted them in other states.