Wednesday Funnies
Like the Sunday funnies only not on Sunday, not in color, not on newsprint, and there's no repeating characters. So, not much like the Sunday funnies at all. Though really not all that funny, so like the Sunday funnies after all.
Filed under Gag Cartoon Gallery 1/15/19
Wodin's Day Funnies
New Month, new year, new decade, old cartoon.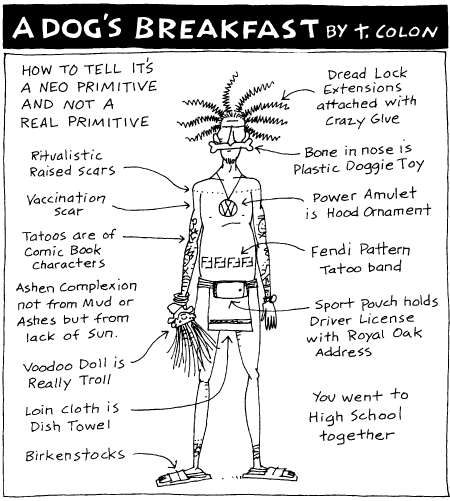 Filed under A Dog's Breakfast 1/7/20
Special Guest Artist Jigsaw Puzzle Re-Redo
Yet more "borrowed" J.C. Leyendecker holiday art from the Ye Olde Nostalgia Shoppe. This time, New Year's Babies. Though those babies are from eighty, ninety or so years ago and would be pretty old by now. Still, Leyendecker being one of the greats his pics are still as good as ever. And plenty o'fun as jigsaw puzzles. I'm hoping. Go see:
Official Terry Colon jigsaw puzzles at TheJigsawPuzzles.com
Filed 1/6/20
2020 Vision
It's a new year and you know what that means. Being 2020 it means an entire year of wordplay between 2020 the year and 2020 vision. How many forecasts, product intros and new releases this year will be "2020 Visions"? If you guessed all of them, you probably won't be far off. Heck, you've likely seen dozens already. Including this one right here. At the end of the year we'll have year in reviews called, what else, "2020 Hindsight."
Now then, if you go with Roman numerals it's MMXX. Another double double. Though what fun you can have with that I haven't figured out. I have a hard enough time just figuring out what year Roman numerals even mean. They look like some sort of texter acronym or modern musical name, which I'm never up to speed on, either.
Of course none of it works if you say "two thousand twenty" instead of "twenty-twenty" for the year. You wouldn't do that, eh? That's like saying 1776 as "one thousand seven hundred seventy-six." Just ain't right. Well, if you're talking about a year/date, at any rate. All that aside, the new year also means one of my annual "Things that Did Not Happen" in the preceding year lists.
Top Ten Things that Did Not Happen in 2019
I write a "Top Ten Things that Did Not Happen in 2019" list
Uh-h…
Hm-m-m…
Tum ti-tum tum
La-di-da, la-di-da
…
That's it
Not!
Sorry. Not only is it a whole lot of nothing, it's not even ten.
Some joke, eh? And to think I had all year to do it.
Filed 1/2/20
What, a Year?
Today's your last chance to finish off that New Years resolution list of things to accomplish in 2019. Or just scratch 2019 off the top and write in 2020. Presto, 366 more days to get it done! Even better yet, chuck that old list 'cause it's a brand new decade, the Roaring Twenties 2.0 or something, and you just gotta start a new decade with a clean slate, right?
Filed 12/31/19
On the Second Day of Christmas…
'Twas the day after Christmas,
and all through the houses,
Not a creature was stirring,
'cause they were all lazy louses…
…Who had on Christmas day pigged out on turkey, taters, pumpkin pie and eggnog and so have decided to skip out on work and play with the adult toys they got as gifts. Besides, it was the second day of Christmas so they were waiting for the pair of turtledoves to be delivered. It was also Boxing Day and so where awaiting… uh… whatever it is that happens on Boxing Day. Ask a Canadian, I don't know.
Filed 12/26/19
On the First Day of Christmas…
…OK, Christmas eve actually. But, blogs being eternal, this will spill over to the actual day so what the heck. Anyway, this is only the teaser for the real bit, an ultra-exciting, animated Christmas carol without music at the link below:
The Twelve Days of Christmas in Under a Minute
Filed 12/24/19
On the First Day of Winter…
…Don't know who, but someone gave to me cold and dark. No birds, no tree, no packets of musical folk or members of the peerage bouncing around. I expect more of the same coming up. And not for twelve days, either. No-o-o-o. More like twelve weeks, give or take a month. Probably give. Yep. Winter is the season that just keeps giving. Guess I'll just have to take it, like it or not. I'm saying not.
Filed 12/22/19
Special Guest Artist Holiday Jigsaw Puzzle Redo
Yet another "borrowed" J.C. Leyendecker holiday illustration from the Ye Olde Nostalgia Shoppe, 320 Memory Lane, Ferndale 20 Michigan. Yep, an address from before ZIP codes. I remember when those came in. It was 1963, if you really wanted to know. Or even if you didn't, know you do.
What I didn't know 'til later was ZIP was an accronym for Zone Improvement Plan. I suppose it still is. Then again could be it's just three letters now, like IBM which doesn't stand for anything anymore though it used to mean Inter­national Business Machines. Anyway, thats why ZIP should be in all caps even though we say it as a word, like NASA, and not three letters, like IBM.
Official Terry Colon jigsaw puzzles at TheJigsawPuzzles.com
Re-Filed 12/21/19 12/13/19
Monday Funnies
Not that it's all that funny, more 1990s pseudo-hipster-quasi-cynical-ish. But it is Christmassy. So maybe ho-ho-ho instead of ha-ha-ha.
Filed under A Dog's Breakfast 12/16/19
Golf Trivia (Sort-of)
As the man said, golf is a great way to ruin a nice walk in the countryside. Here are a few other things said about golf that sound like fun facts. But aren't. Or are they?
The average golfer walks about 900 miles a year and drinks 22 gallon of alcohol a year. Meaning golfers get about 41 miles to the gallon.
The competitive object of Golf is to see who can play the least golf.
Golf is a game where you yell "fore," shoot six, and write down five.
Filed 12/11/19
Really Why It's Called Black Friday
The reason the day after Thanksgiving is called Black Friday is not what you may have heard. It actually goes back to what I wrote about in the previous entry (just below, in the usual blog fashion). Back when stores were pretty much only open weekdays, that's days and not evenings, there wasn't much opportunity for a working stiff to get to the store since working hours and shopping hours were pretty much a total overlap. So, a lot of people skipped work the day after Thanksgiving and did their Christmas shopping. Widespread absenteeism meant understaffed businesses had a hard time getting things done and so owners and management began calling it Black Friday.
Filed 12/9/19
This Week's Special Guest Artist Jigsaw Puzzle
Why, it's another "borrowed" J.C. Leyendecker holiday illustration. Though now that Thanksgiving is a thing of the past for the year and the turkey leftovers are no longer left but over, it's on to the next step of the season —Christmas shopping. Back in the day we used to talk about there being only X number of shopping days until Christmas. These days, with just about everything open seven days a week, that doesn't much mean much as every day's a shopping day.
Another old phrase that doesn't work any more: banker's hours. If you're old enough you might remember when banks were never open Saturday, and closed every day a three in the afternoon. Seems strange now, but that was the way it was. Car dealerships were shuttered on week-ends, too. Go back far enough and almost nothing, not even gas stations or your corner convenience store (or bodega or party store or whatever they call them where you live) were open on Sunday.
And so ends another short trip down memory lane. On to the puzzle:
Official Terry Colon jigsaw puzzles at TheJigsawPuzzles.com
Filed 12/5/19
Monday Funnies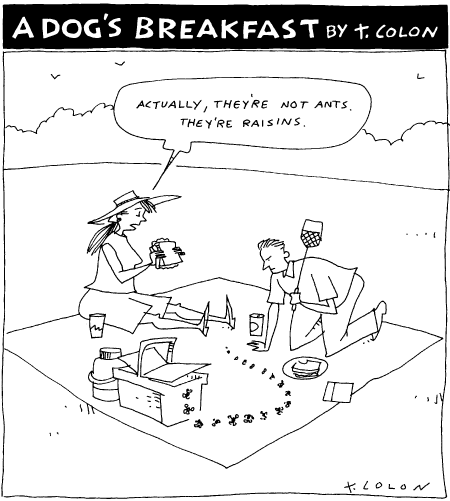 Filed under old pop culture reference you have to be over thirty-something to get. Meaning, is this funny any more?
Also filed under A Dog's Breakfast 12/2/19
Special Thanksgiving Guest Artist Jigsaw Puzzle
For Thanksgiving, a very special J.C. Leyendecker jigsaw puzzle available for a limited time. (See link. Well, don't just see it, click it. But not yet, read the rest of the entry. Or not, it doesn't really make a difference.) Why a Leyendecker and not a Colon? you might ask. Because his stuff is just so much better than mine. The man's in the illustration hall of fame, for crying out loud. Me? I'm not sure I ever made it to the bigs. If I did, I for sure wasn't an all-star.
Official Terry Colon jigsaw puzzles at TheJigsawPuzzles.com
Filed 11/28/19
One Fine Day above Flyover Country
Another old joke acquired, illustrated and interactivated. Mouseover the time tabs to "hear the dialog."
Filed 11/20/19
Monday Funnies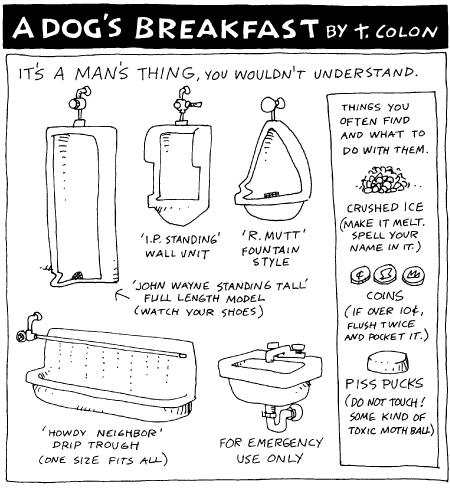 Filed under A Dog's Breakfast 11/18/19
Back to Back to the Drawing Board
More old book illos by yours truly. These from 2005. Presented in fancy-schmancy page-turning click-e-book format. What is that? Click the link and see for yourself.
The Roof-Rack Chronicles Illustrations from the book
Filed 11/15/19